Visual artist
Lives and works in Copenhagen, DK
octavian_re@yahoo.dk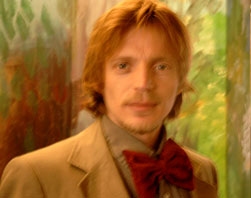 Selected biographical events

1990 first show at Gallery SPECTA, Denmark. Octavian was invited to exhibit during the cultural exchange between Erik A. Frandsen (DK) and Octavian in connexion to the Romanian revolution.
1992 Co-founder of Cultural Space Katharsis, Copenhagen.
Artist Interviews and cooperation together with fellow artists Luc Tuymans and Mariella Brandusa in Antwerp and Copenhagen.
From 2000 Organiser and curator of international art projects
1989 during the Revolution organizes the first (and unique) street exhibition in the University Square (Piata Universitatii) together with Erik A. Frandsen, Charley Jensen, documented by the Danish national TV. Later the works were taken by The Art museum in Lyon, France.
The prise and diploma from U.A.P '89 for supporting the Romanian revolution against communist dictatorship.
The prise from F.N.A.C. Paris, France, for the posters supporting the revolution.
First exhibition in a non-conventional space at the G.D.S. garden and the Review 22. Performance in the G.D.S. balcony on the theme "The continuous revolution" and interview for the TVR (national television)
Education
Master of Fine Arts from The Royal Danish Art Academy
1990-93 Royal Art Academy of Copenhagen, painting department at prof. Ole Sporring, Denmark
1986-90 National Art Academy, Monumental art and painting institute, Bucharest, Romania
1978-82 Art Gymnasium in Targu Mures
1989 Meet artist Erik A. Frandsen during the revolution. Work together.
Selected shows
2022 How to write a graphic novel, 5 exhibitions Katharsis Gallery
2021 "The unteared wall", Berlin Soup, Galloperiet, Copenhagen, Denmark
2020 Katharsis brief, performance and sculpture, Gallery Renata Majbloom, Copenhagen, Denmark
2019 The mirroring, New Carlsberg Gallery, Copenhagen, Denmark
2018 Broken arrow, Berlin Soup, Dadapost, Berlin
Gadens Galleri, Kbh.
2017 Berlin Soup, Athens, Grece
2016 Black wall, Berlin Soup, Berlin, Germany
2015 Berlin Soup, PB 68, Christianshavn, Denmark
2014 Home, Art Aid in Odd fellow Palace, Copenhagen
2013 Amor vincit omnia, Odd fellow Palace, Copenhagen
URO,("unrest"), Gallery Hallengreen, Soeborg, Denmark
2012 Sejren (Victory) cynetic sculpture for VM Cycling in Naerum, Dk
2011 The blue lake, Holte, Denmark
2010 Objects of illumination, Gallery Katharsis, denmark
2009 The space of senses, Sanserum, Holte, Denmark
2009- 2015 The 7 year promise, DesArt Exhibition, Copenhagen
2007 " Lost in Translation" Skovlyskole Holte, Denmark
2007 " This Page Cannot Be Found" Installation, video mix media. LoadingGallery, Bucharest, Romania
2006 The SoundThief, Gallery HT003 Bucharest. Romania
2006 Fragile Beauty, PianoLiving Gallery, Lecce, Italy
2006 Im going Glocal! Danish cultural center, Kecskemet, Hungary
2006 Im Going Glocal! KOKEM, Miercurea Ciuc, Romania
2006 Im Going Glocal! Gallery HT003, Bucharest, Romania
2006 Im Going Glocal! LoadingGallery, Bucharest, Romania
2005 FUSION STOP Sczecin, Poland
2004 FUSION, Galleri Kleefeld, Copenhagen, Dk
2004 FUSION, Kunsthallen KulturSpineriet, Silkeborg, Dk
2003 "Milk and honey" ArtLab, Bucharest
2002 BIAM, Gallery Andre Emile, Vancouver, Canada
2002 BIAM, Tribe Gallery, New York, USA
2002 "The Wind", Kunsthallen Brande, Denmark
2002 Art Money, "Without borders", Oksnehallen, Copenhagen, Dk
2001 "10 Years Travel ", Kunsthallen Brænderigaarden, Viborg, Denmark
2000 "a research of identity", Palazzo Correr, Venice. Italy
2000 "TIME ", Il Baraccano, Bologna.
2000 "TIME ", Frederiks Bastion, Copenhagen.
1999 "What's behind that curtain", Katharsis Art Space, Copenhagen
1998 "Series of Portraits", Gallery Frantz Pedersen, Horsens
1997 Gallery Caminul Artei, Bucharest
1997 "Good Night, Darling", Gallery Ploiesti, Romania.
1997 "Octavianescu" Galeriile de arta contemporana Ploiesti
1996 "Exile", Gallery Specta, Copenhagen (ArtForum, DK)
1994 "We", Humanitas House, Bucharest, Romania.
1993 Danube Art Museum , Romania
1993 "Reflection – self exile", Gallery Specta, Copenhagen, Dk
1992 1minute performance, Zeno X, Antwerpes, Belgium
1991 "Interviews".Gallery Specta, Aarhus.
1990 Galleri Specta, Århus, Denmark
1989 Group TATEC, Bucharest, Romania (met Erik A. Frandsen)1990 Group TATEC, Lyon, France.

Represented
Aarhus Art Museum, Denmark
Museul de Arta Tulcea, Romania
Interior decoration at Aarhus Hospital, Denmark
Video " The Ambassadors" collection of the SOROS foundation, Hungary
ArtForum (Gallery Frantz Pedersen and Gallery Specta).
Muzeul de Arta Comparata Sangeorz Bai, Romania
In private collections: Denmark, Romania, Germany, Sweden, Israel, France, USA.
Participated the 9th and the 10th International Workshop for Visual Artists, Remisen, Brande, Denmark
Art Symposium at The Compared Arts Museum MACSB Sangeorz Bai, Romania

Monumental art and Spacial Art installations
The Cultural Space Katharsis, Denmark
Katharsis Gallery, Copenhagen, Denmark
Bankeraat, Copenhagen, Denmark
Skovlyskole Holte, Denmark,
Naerum crossing , Denmark

Articles and exhibitions reviews in: Kunstavisen, Information, Politiken, Berlingske Tidende, Aktuelt, m.m.
Grants: Danish Art council travel grant, Copenhagen Municipality's Development fund, Danish Art council project grant
Represented by Katharsis Culture Space
Represented in the book "Kunst Giver Liv" by the Danish art-collector Ib Hessov.
Several books and Artist books
Contact: octavian_re@yahoo.dk
Atelier Frederiksberg, Cph. Tel: 004560703441